As change and development has become a natural part of our everyday life, most organisations face associated challenges. The workplace plays a key role, both strategically and operationally, in staying competitive in today's world. This blogpost summarises the top 5 workplace trends that are crucial in order to operate in a very complex and unpredictable world.
Work to learn – not learn to work
As tech becomes exponential, we need to foster exponential humanity. We need to start concentrating a lot harder on the things humans are good at and computers are not. According to the McKinsey Global Institute, a fifth of the world's employees will be replaced by robots, AI, automation or similar in the near future. The World Economic Forum's "Future of Jobs Report" (2018), estimates that not less than 54% of all employees need to be retrained and develop new competences by 2022.
We live in a more complex world and the only thing we know for certain, is that change is constant. We believe that organisations will focus more and more on development and relearning of skills for their employees. And in the recruitment process they will apply the mindset "seek for lifetime learners".
New organisational structures
Organisations used to be designed for efficiency and were built around silos. As the world gets more and more connected, everyone is competing against each other, no matter industry and place. Today's high performing organisations are replacing hierarchies with a network-based structure to support cooperation, engagement, innovation and adoptability. 94% of global organisations report that agile working methods and cooperation, are critical success factors to stay competitive (2).
We believe that the workplace needs to be designed to support new organisational structures by aligning both the physical and the digital and environment, as well as the cultural aspects. We need environments that allows us to act fast and work smarter.
More centralised and streamlined communication
Many workers are struggling with communication overload and increased stress during an average workday. Overflowing inboxes are a problem for many of us and we spend a large part of our day handling emails. The average worker spends as much as one day a week searching for internal information according to IDC. When we can't find what we are looking for, we interrupt our colleagues, and usually we end up recreating information that already exists.
Many organisations are realising the importance of finding a single platform that unifies different systems, consolidates projects and relevant communication. A platform that ties activities to company goals and empowers employees to work effectively.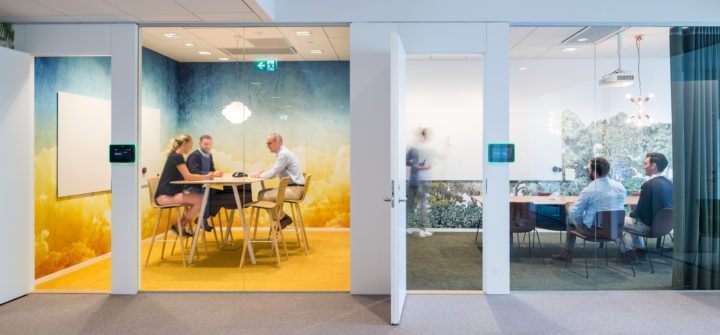 Greater emphasis on work life integration
With all the digital tools that enable employees to work from anywhere, an adequate work-life integration will continue to be a dominant focus for many workers. According to the Randstad Employer Brand Research Report, a good work-life balance is one of the most important considerations that job candidates make when evaluating an organisation. A recent study of FTSE100 and the Standard & Poor's 500 Index demonstrated that organisations that focus on health, engagement and wellbeing, can get as much as 10 times more back in value from their employees.
We see a trend in that organisations are adopting a holistic view of their employees, and in order to stay competitive, companies will need to prove to employees that health and wellbeing is a shared value.
Experience based offices
The real estate business is no longer about real estate, or at least it soon won't be. The answer lies in the twin trends of the move from products to services and ownership to access. Increasingly we are moving to an almost post-consumer world, instead we are more interested in being provided with services, experiences and surprises.
Space, as a service, is the future of real estate. It's not enough to provide a space that people want to come to, it needs to be tailored for the people that will operate within it. Organisations need to think about what experiences they want to offer their employees, customers and partners. The space will also be a crucial aspect in defining your brand – and your brand is what defines your values.
Footnote 1: Deloitte Human Capital Trends (2017), 2: Deloitte Global Human Capital Trends