During 2019 Tenant & Partner has been certifying our Stockholm office according to Fitwel, a world leading health certification method for buildings. We are now happy to announce that we have been certified with the highest score in Sweden, which resulted in 2 out of 3 star rating and an international award. Fitwel is based on 3000 studies within health and wellbeing and focuses on solutions that promotes healthy choices and behaviours.
"Best in Building Health 2020"
We are extra proud that our workplace at Norr Mälarstrand 14 has been awarded "Best Building Health 2020" from the international independent organisation Center for Active Design.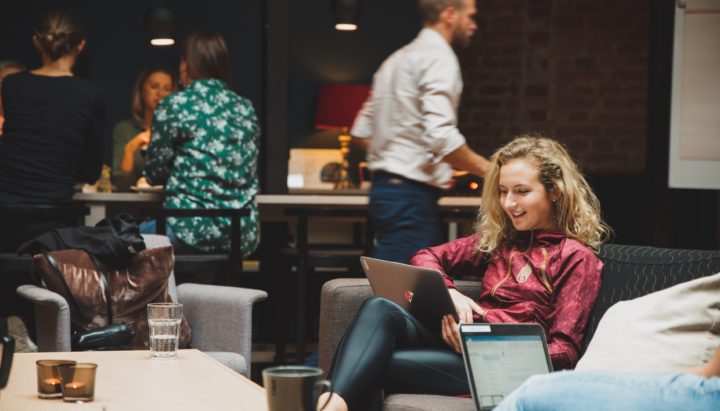 "Tenant & Partner is demonstrating their leadership in the global healthy building movement as one of the early adopters of Fitwel in Sweden," said Lisa Creighton, VP of Strategy and Development at the Center for Active Design. "Their outstanding 2 Star Fitwel certification of Norr Mälarstrand 14 in Stockholm reveals a strong commitment to supporting the health of their 70+ employees and sets a benchmark for advancing health-promoting projects among their client base."
"It is an incredible honour that Tenant & Partner has been presented with this international award for our engagement in promoting health and wellbeing within the workplace. We hope that we can inspire others to look into making a change towards becoming a more health promoting workplace." Says Evelien Wander-Plijter, workplace strategist at Tenant & Parter and Fitwel ambassador.
Fitwel helps us enable better terms and conditions for health and wellbeing
"Prior to the Fitwel certification, our office at Norr Mälarstrand 14 was an established health promoting workplace. For example we have a beautiful view over Mälaren and a location with great communication and infrastructure that promotes riding a bike or walking to work. Within the workplace we are offered many variations of workstations, a lounge that acts as our natural meeting point and a gym that is located in the centre of the office. The Fitwel certification has encouraged us to better our conditions for health and wellbeing even further. For example, we have implemented policies for food and security and encouraged our colleagues to make healthier choices through signs and information throughout the workplace." Says Evelien Wander-Plijter.
During the procedure Tenant & Partner have learnt a lot surrounding what health at the workplace is. This is an area that is of great importance to us since we are always looking for opportunities to learn more about how we can create the best conditions for performing workplaces. Not only for ourselves but most importantly for our customers.
The importance of a health promoting workplace
We live in a world with considerable challenges when it comes to health in society as there are many lifestyle diseases and mental health issues. It can create advantages for companies and organisations that actively choose to promote health within the workplace. Coworkers with healthy well-being are more likely to cooperate, be more helpful, time-efficient and remain longer in an organisation. At Tenant & Partner we see the workplace as a strategic tool that creates conditions for our customers to reach their goals and visions.
Are you interested to find out more about how to create a health-promoting workplace and/or do you desire to find out if Fitwel could be a suitable method for your workplace? The Fitwel certification can be applied to both existing and new facilities and it works in different stages of a project, for example to compare different property alternatives, in the design phase and even after a move.