Evelien Plijter, workplace consultant at Tenant & Partner, has recently become a Fitwel Ambassador. Fitwel is a benchmarking and certification system for optimising buildings to improve health and productivity through improvements to workplace design and operational policies. The system is organised around specific, incremental changes that will foster a healthier workplace, regardless of size, construction year or location.
Fitwel supports healthy behaviour
Fitwel is the world's leading certification system for healthy buildings. It has a low bar to entry with no prerequisites and is suited to existing occupied spaces. The system is primarily oriented towards solutions that support healthy behaviour. Fitwel launched for public use in 2017 after being pilot tested on 89 buildings, and the scientific research behind it includes more than 3000 studies.
Organisations to take responsibility
– Costs for healthcare and absenteeism are rising and we see increased levels of stress. This affects both individuals, organisations and society. As people spend most of their awake time at work, organisations need to take responsibility for creating work environments that enable healthy behaviour. Health has become an increasingly important factor in our projects.
Many of our clients indicate that recruiting and retaining employees is one of their main challenges. A health promoting environment can be a competitive advantage, especially for millennials who prioritise health & well-being, says Evelien.
A study (1) shows that 78% of millennials see workplace quality as important when choosing an employer. 69% would trade other benefits for better workplaces.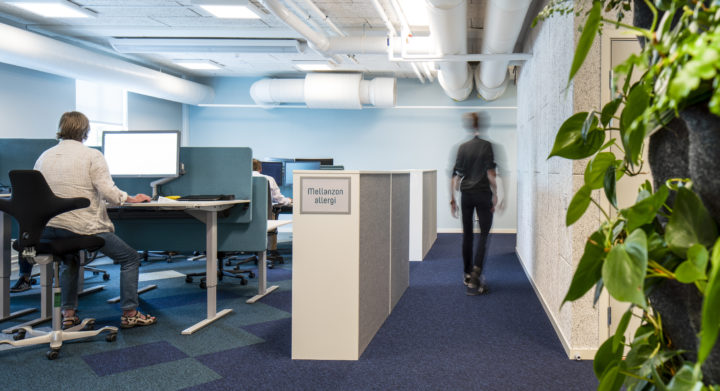 Adding value to our customers
Our mission at Tenant & Partner is to help our customers create Performing Workplaces®. By this we mean workplaces that create strategic value to our customers' organisations. A performing workplace for us is engaging, efficient, contributes to higher productivity and promotes health and well-being.
Fitwel supports us in creating health-promoting workplaces and can be used in different stages of a process. The system is typically used for certification but can also add value without certifying a building. Fitwel includes 63 evidence-based design and operational strategies, which we use as guidance in our projects. This includes location, outdoor spaces, indoor environment and workplaces.
– Tenant & Partner has access to a great benchmarking portal which is very helpful when comparing different possible buildings and locations. We are looking forward to guiding our customers towards even healthier workplaces, says Evelien.
Footnote 1: CBRE Research (2016). Millennials: Myths and Realities