Integrated experience management, climate change, artificial intelligence and digitalisation were some of the main topics discussed during an international conference that Tenant & Partner recently attended. In this blogpost, we will share our insights from the latest trends of Facility Management.
Integrated experience management
20 years ago, consultants in workplace design would wonder how many people could fit into a workspace. 10 years ago, they wondered what kind of tasks and activities could be performed in a workspace. Nowadays, the focus is on what type of experience people want to have in a workspace. (1) In a world lead by progressing technology, clients have access to an abundance of information for decision-making and creating an experience becomes a key factor and a competitive advantage in Facility Management.
In the workplace environment silos in organisations can often hinder the best possible experience for employees. For example, IT-, HR- and facility departments not working together in order to achieve common goals but instead have different interests and perspectives that are not aligned. During the conference a stand out theme in the area of integrated experience management was consistently highlighted as an interconnectedness between employee private life and work life. The challenge is to focus on sustainability and use front-end technology with a unique human feeling.
Integrated experience management aligns with Tenant & Partners vision, Performing Workplaces. We create workspaces that add value to the user, and we integrate solutions that are effective both for people and the planet.
Climate change
"All organisations need to prioritise climate change to improve the impact on environment" was the message presented by the younger generations on the topic of climate change within the workplace.
Tenant & Partner have implemented a strong focus on sustainability in our projects and the topic is a crucial factor when it comes to decision making. This presentation strengthened our commitment to climate impact.
Artificial intelligence and digitalisation leading to another skillset
Artificial intelligence (AI) can simply be explained as a computer that performs tasks where intelligence is required. For example: speech recognition, decision making and learning behavioural patterns. The conference presenters made clear the urgency for the consideration of AI and digitisation for workplaces, one presenter even stated: "Have a strategy for AI or you will die".
As technology exponentially progresses in the workplace, there is an important focus required on the human factor and interaction becomes increasingly more important for organisations. Some of these skills include leadership, communication and creative thinking. At Tenant & Partner we continually discuss this topic with our clients and suppliers to understand how it may affect our work environment both in the short and long term.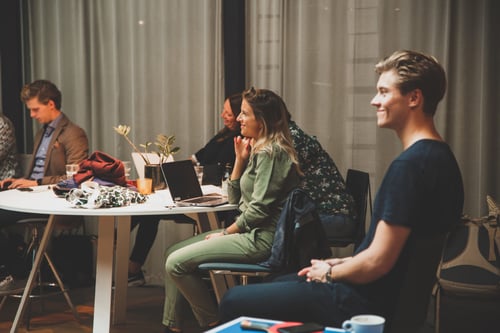 Our mission is to create Performing Workplaces. We help our customers to develop work environments where each and every staff member can reach their full potential
(1) HOK